Today's post is from Annie at Parr Library.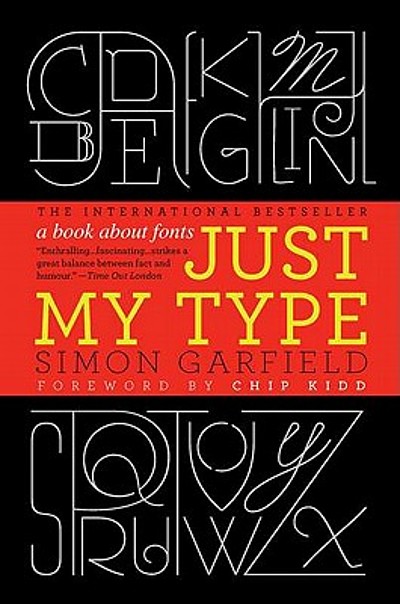 Just My Type: A Book About Fonts by Simon Garfield
In the vein of Eats, Shoots and Leaves by Lynne Trusse, the book about punctuation that became a New York Times bestseller, comes Simon Garfield's surprisingly entertaining book about fonts, Just My Type, surprising because, let's be honest, who thinks about fonts? Fonts are just there on your computer, or words on a street sign or in a book. Who knew that particular fonts elicit admiration normally displayed by groupies at rock concerts (Helvetica), and equally fervid hatred (Comic Sans). Helvetica has its own movie—Gary Hustwit's Helvetica, and there's a hate website for Comic Sans —bancomicsans.com.
Each font choice on your computer, and many not on your computer, had a creator and was designed for a purpose, and the story behind the different fonts spans our common history and is truly engrossing. Here are just a few trivia items:
Steve Jobs is credited with bringing font variety to the computer due to his love of calligraphy.
The London Underground signage was a mishmash of fonts until Edward Johnston unified it during the First World War by creating Johnston Sans.
On April 1, 1977, the Guardian staged an April Fool hoax by celebrating the 10th anniversary of the independence of San Serriffe archipelago, complete with map, a fictional republic whose every location name was a font. People called their travel agent trying to book a vacation there.
When IKEA changed its typeface from Futura to Verdana in 2009, regular people noticed. "There was rudeness on websites. Newspapers wrote about it in cutting ways, and there were frank exchanges on BBC radio."
New York City is so inundated by Helvetica that when Cyrus Highsmith, a type designer, vowed to spend a day without acknowledging this font, he discovered the washing instructions on his clothes were in Helvetica, he couldn't read the New York Times (the tables are in Helvetica), he couldn't ride the subway because all the signage is in Helvetica, he couldn't browse the Internet, he had to be careful about using cash because the new US dollar bills are in Helvetica, as were his credit cards, and on and on.
One of my favorite chapters is Chapter 6 The Ampersands because they can be so beautiful:
Here is a Caslon ampersand .
And here is a Garamond .
All in all samples of more than 200 fonts appear in the book. The book itself uses a very nice font called Sabon in its main chapters, a font I found as eminently readable as the book itself.
Tags: Fonts, Graphic Design, Typeface, Typographers Biography